INSET Training in 'The Art of Storytelling'
Storytelling is a popular performing art in India. Each region has developed its own style and tradition of storytelling in various regional languages combining musical compositions between narrations. Indian fables, mythology, folk tales and epics provide an incredible source of children's stories.
Pushpanjali Dance Company uses storytelling techniques from the ancient and traditional classical dance form Bharatanatyam. With an extensive vocabulary of beautiful hand gestures, facial expressions and intricate graceful dance movements, this classical dance form brings stories to life.
These storytelling techniques are an invaluable teaching tool for teachers, especially for those working with early years as it would help teachers inspire and develop children's reading and narrative skills. Children remember stories and sequences of movement better if they are combined with dance, music and storytelling and they are more confident and uninhibited when encouraged and involved in the sessions.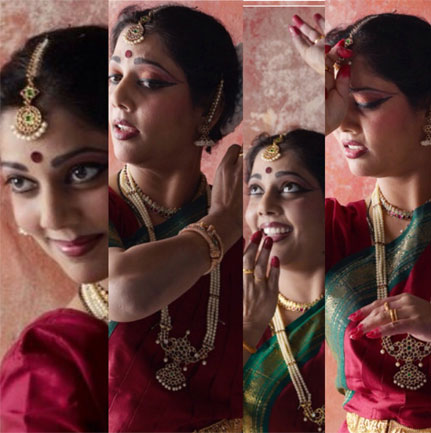 Teachers would receive training in techniques such as:
Hand gestures showing various objects and elements nature
Facial expressions demonstrating different emotions
Dance steps depicting animal movements
The training sessions will enhance teachers' professional development. It will develop their confidence and enable them to make stories entertaining and interesting by narrating them in a stylised and expressive form. It will also help develop fundamental skills in working with early years while exposing children to other cultures.
Storytelling through expressive dance is a stylised art form where the head, eyes, limbs, hand gestures and different movements are used to narrate stories or describe various objects whether they are elements of nature or inanimate objects.
Storytelling benefits children and contributes to their development by:
Enhancing their ability to identify and distinguish different sounds
Improving concentration, movement vocabulary, verbal and non –verbal communication skills, expression and enjoyment
Promoting interest and curiosity about stories from other cultures
Improve reading skills and developing the habit of reading;
Promoting early literacy
Enhancing creativity and motivation
Developing talents
Developing children's enjoyment of dance, expression of ideas and feelings through movement
Helping children go on an emotional journey through interesting stories
Helping children learn about some traditional Indian dances within a culturally diverse society.
Teachers will receive a resource pack with picture illustrations and information on the various techniques taught during the course.
For further information or to book us for an INSET day:
Contact
Prajyoti Madhusudan
Artistic director
Pushpanjali Dance Company
Telephone​: 01625 616 981
​Mobile: 07863343308