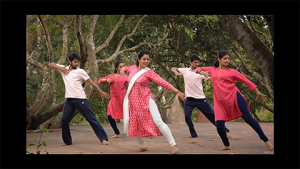 An average man needs 2,500 calories per day
An average woman needs 2,000 calories per day
3,500 Calories equals 1 pound of Fat
A deficit of 500 calories per day, either through exercise or diet or a combination of the two would help you lose one pound in a week!
Just 30 mins of Natya Aerobics at least three times a week along with a Calorie controlled diet will help in weight lose and improved fitness….
BURN OVER 900 CALORIES, DO 3,300 STEPS AND COVER MORE THAN 3KMS IN JUST 30MINS WITH NATYA AEROBICS INDIAN DANCE WORKOUT….
ITS EASY, ENERGETIC AND ENJOYABLE!
Go ahead and try this and other dance steps by subscribing free to my Natya Aerobics channel on YouTube..
A Dance Workout for the entire family…
A New and Exciting Form Of Indian Dance & Fitness
Suitable for all ages and abilities
Natya Aerobics offers a creative approach to keeping active and healthy with a cultural emphasis.
Natya Aerobics can be done at educational institutions, gyms, leisure centres and corporate offices.
The complete collection of Natya Aerobics DVDs include:
-LOW IMPACT DANCE WORKOUT
This routine has movements inspired by the vibrant folk dances of India and is set at a medium pace to offer you a low impact workout. Begins with a warm-up and ends with a short stretch and tone section.
– HIGH IMPACT DANCE WORKOUT
The modern style of Bollywood dance and the traditional Indian classical dance style Bharatanatyam have been fused together to offer a high impact workout. The continuous rhythmic, fast-paced movements provide a good cardiovascular workout. Begins with a warm up and ends with a short stretch and tone section.
– STRETCH AND TONE
This routine combines Bharatanatyam movements and yoga postures in a calming routine that helps you focus on stretching, strengthening and toning the various muscle groups in your body. Begins with a short warm up to prepare the body for a good strong stretch.
– TOTAL BODY WORKOUT
A short version of all the dance routines have been put together in this DVD for a total body workout including warm up, low impact, high impact and stretch & tone workout. This DVD offers you the option of either getting a quick workout by choosing any one of the tracks or opting for a total body workout by doing all the routines.